Announcing
the Awesome Achievement Award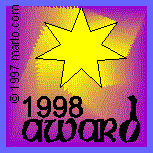 presented to
Robert Schwerdt
in special recognition of
his outstanding secret club
by
The Institute of Quality Assessments
Secret Sister
Chairperson
---
This is an award for your original ideas.
For starting a club for kids by kids.
Great Job!!!!
---
This World Wide Web page was commissioned at
Awesome Award Center™
by Secret Sister
anasazi_angel@hotmail.com
click here to
Reply with a Card
Picture and Printing Information
_____
© Copyright 1996 marlo.com. All Rights Reserved.
AWESOME CYBER CARDS
Web Address:
The original Sender and Recipient may use this Awesome Cyber Card for personal, non-commercial, lawful, benign, ethical purposes on a limited, non-exclusive, one-time basis. Any other use, including but not limited to the re-publication of any or all of these materials on the internet and/or in any other medium, is not permitted. Copyright notice may not be removed. Copyright by marlo.com does not apply to the names and other words that were input by sender of this customized greeting. Sender has full rights to, and responsibilty for, his , her or their own input.