<![if !supportLineBreakNewLine]>
<![endif]>
Home / Music stuff / Catholic stuff / Homeschooling stuff / Book stuff / Links

This is the catch-all area.
These are some of my favorite prayers and quotes:

YOUR FAMILY
is a little church where the supernatural life is lived, where the Gospel is read, where the children are raised in a Christian way.
YOUR FAMILY
was in God's mind when He created the first family.
YOUR FAMILY
shelters its members from the dangers of ruinous ideas and habits.
YOUR FAMILY
is a training center for a good life and for civil and moral progress.
YOUR FAMILY
will please God if you try to imitate the Holy Family of Nazareth;
if you are united more by the bonds of love than by necessity;
if you keep alive the loving memory of your deceased;
if the children God sends are received and cherished as treasures from heaven;
if you share joys, work and sacrifice.


May the Lord visit your home and fill its every corner with peace. May His blessing descend upon you and remain with you forever.
Very Rev. James Alberione
~~~
"It is not the critic who counts, not the man who points out how the strong man stumbles,
or where the doer of deeds could have done better.
The credit belongs to the man who is actually in the arena, whose face is marred by the dust and sweat and blood;
who strives valiantly;
who errs and comes short again and again;
who know the great enthusiasms and the great devotions, and spends himself in a worthy causes;
who, at best, know in the end the triumph of high achievement;
and who, at the worst, if he fails at least fails while daring greatly...
so that his place shall never be with those cold and timid souls who know neither defeat or victory."
Theodore Roosevelt
~~~
"If we were created, it was that we might serve God; if we have His gifts, it is that we may glorify Him;
if we have a conscience, it is that we may keep it before us;
if we have grace, that we may save ourselves by means of it.
Alas, Alas, for those who die without fulfilling their mission!
who were called to worship Christ, and who plunged into this giddy and unbelieving world;
who were called to fight, and who remained idle;
who were called to be Catholics, and who did but remain in the religion of their birth!"
Cardinal John Henry Newman

<![if !vml]>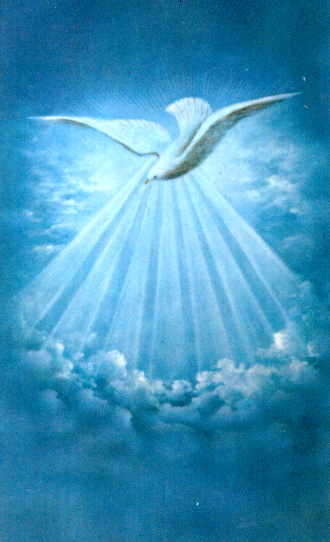 <![endif]>



My God, I Love Thee
Breathe in me, O Holy Spirit, that my thoughts may all be holy;
Act in me, O Holy Spirit, that my work, too, may be holy;
Draw my heart, O Holy Spirit, that I love but what is holy;
Strengthen me, O Holy Spirit, to defend all that is holy;
Guard me then, O Holy Spirit, that I always may be holy.
<![if !supportEmptyParas]> <![endif]>
St. Augustine
<![if !vml]>
<![endif]>Lord, make me an instrument of Your peace.
Where there is hatred, let me sow love;
Where there is injury, pardon;
Where there is doubt, faith;
Where there is despair, hope;
Where there is darkness, light;
And where there is sadness, joy.
O Divine Master, grant that I may not so much seek to be consoled as to console;
to be understood as to understand;
to be loved as to love.
For it is in giving that we receive,
it is in pardoning that we are pardoned,
and it is in dying that we are born to eternal life.
<![if !supportEmptyParas]> <![endif]>
Prayer of St. Francis of Assisi
~~~
O glorious Saint Gerard, powerful intercessor before God, and wonder worker of our day, I call upon you and seek your help. You who always fulfilled God's will on earth, help me to do God's holy will. Beseech the Master of life, from whom all paternity proceeds, that I may conceive and raise children who will please God in this life, and be heirs to the kingdom of heaven. Amen
Prayer for Motherhood
<![if !vml]>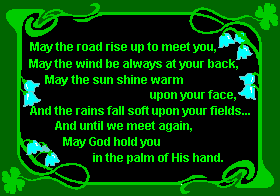 <![endif]>
Christ be with me, Christ within me,
Christ behind me, Christ before me,
Christ beside me, Christ to win me,
Christ to comfort and restore me,
Christ beneath me, Christ above me,
Christ in quiet, Christ in danger,
Christ in hearts of all that love me,
Christ in mouth of friend and stranger.
The Breastplate of St. Patrick
<![if !vml]>

<![endif]>Heavenly Father, You create us in Your own image, and You desire that not even the least among us should perish.
In Your love for us, You entrusted Your only Son to the holy Virgin Mary.
Now, in Your love, protect against the wickedness of the devil,
those little ones to whom You have given the gift of life.
Prayer for the Helpless Unborn
~~~
O Holy Spirit,
Whose voice I hear in the winds,
And whose breath give life to all the world, hear me!
I am small and weak,
I need your strength and wisdom.
Let me walk in beauty, and make my eyes ever behold the red and purple sunset.
Make my hands respect the things You have made and my ears sharp to hear Your voice.
Make me wise so that I may understand the things You have taught my people.
Let me learn the lessons You have hidden in every leaf and rock.
I seek strength, not to be greater than my brother, but to fight my greatest enemy - myself.
Make me always ready to come to You with clean hands and straight eyes.
So when life fades, as the fading sunset, my spirit may come to You without shame.
An Indian Prayer
~~~
<![if !vml]>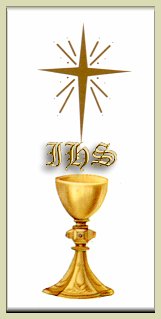 <![endif]>

Soul of Christ sanctify me;
Body of Christ save me;
Blood of Christ inebriate me;
Water from the side of Christ wash me;
Passion of Christ strengthen me;
O good Jesus hear me;
Within Your wounds hide me;
Never let me be separated from You;
From the evil one protect me,
At the hour of my death call me,
And bid me come to You
That with your saints
I may praise You forever. Amen
Anima Christi
~~~
Exemplary Mother of the great Augustine, you perseveringly pursued your wayward son not with wild threats but with prayerful cries to heaven. Intercede for all mothers in our day so that they may learn to draw their children to God. Teach them how to remain close to their children, even the prodigal sons and daughters who have sadly gone astray.
Prayer to St. Monica
~~~
Glorious St. Anne, filled with compassion for those who invoke you and with love for those who suffer, heavily laden with the weight of my troubles, I cast myself at your feet and humbly beg of you to take the present affair which I recommend to you under your special protection. Vouchsafe to recommend it to your daughter, the Blessed Virgin Mary, and lay it before the throne of Jesus, so that He may bring it to a happy issue. Cease not to intercede for me until my request is granted. (Here ask for favor you wish to obtain.) Above all, obtain for me the grace of one day beholding my God face to face, and with you and Mary and all the saints, praising and blessing Him through all eternity. Amen
Good St. Anne, mother of her who is our life, our sweetness and our hope, pray to her for us and obtain our request. (Three times).
Prayer to St. Anne
~~~
The Chaplet of the Divine Mercy
Begin with:
Our Father ..., Hail Mary ..., The Apostles' Creed.
Then, on the Our Father Beads you will say the following words:
Eternal Father, I offer You the Body and Blood, Soul and Divinity of Your dearly beloved Son, Our Lord Jesus Christ, in atonement for our sins and those of the whole world.
On the Hail Mary Beads you will say the following words:
For the sake of His sorrowful Passion, have mercy on us and on the whole world.
In conclusion, Three Times you will recite these words:
Holy God, Holy Mighty One, Holy Immortal One, have mercy on us and on the whole world.
From the diary of Blessed Faustina:
"Through the Chaplet you will obtain everything, if what you ask for will be compatible with My will"
"By the Novena of Chaplets before the Feast of Mercy, I will grant every possible grace to souls"
"Even if a sinner were most hardened, if only once he will recite this chaplet, he will obtain grace from My infinite mercy"
~~~
The Fifteen Promises of Mary to Christians
Who Recite the Rosary
Whoever shall faithfully serve me by the recitation of the rosary, shall receive signal graces.

I promise my special protection and the greatest graces to all those who shall recite the rosary.

The rosary shall be a powerful armor against hell, it will destroy vice, decrease sin, and defeat heresies.

It will cause virtue and good works to flourish; it will obtain for souls the abundant mercy of God; it will withdraw the hearts of men from the love of the world and its vanities, and will lift them to the desire of eternal things. Oh, that souls would sanctify themselves by this means.

The soul which recommends itself to me by the recitation of the rosary, shall not perish.

Whoever shall recite the rosary devoutly, applying himself to the consideration of its sacred mysteries shall never be conquered by misfortune. God will not chastise him in His justice, he shall not perish by an unprovided death; if he be just he shall remain in the grace of God, and become worthy of eternal life.

Whoever shall have a true devotion for the rosary shall not die without the sacraments of the Church.

Those who are faithful to recite the rosary shall have during their life and at their death the light of God and the plenitude of His graces; at the moment of death they shall participate in the merits of the saints in paradise.

You shall obtain all you ask of me by the recitation of the rosary.

All those who propagate the holy rosary shall be aided by me in their necessities.

I have obtained from my Divine Son that all the advocates of the rosary shall have for intercessors the entire celestial court during their life and at the hour of death.

All who recite the rosary ar my sons, and brothers of my only son Jesus Christ.

Devotion of my rosary is a great sign of predestination
Given to St. Dominic and Blessed Alan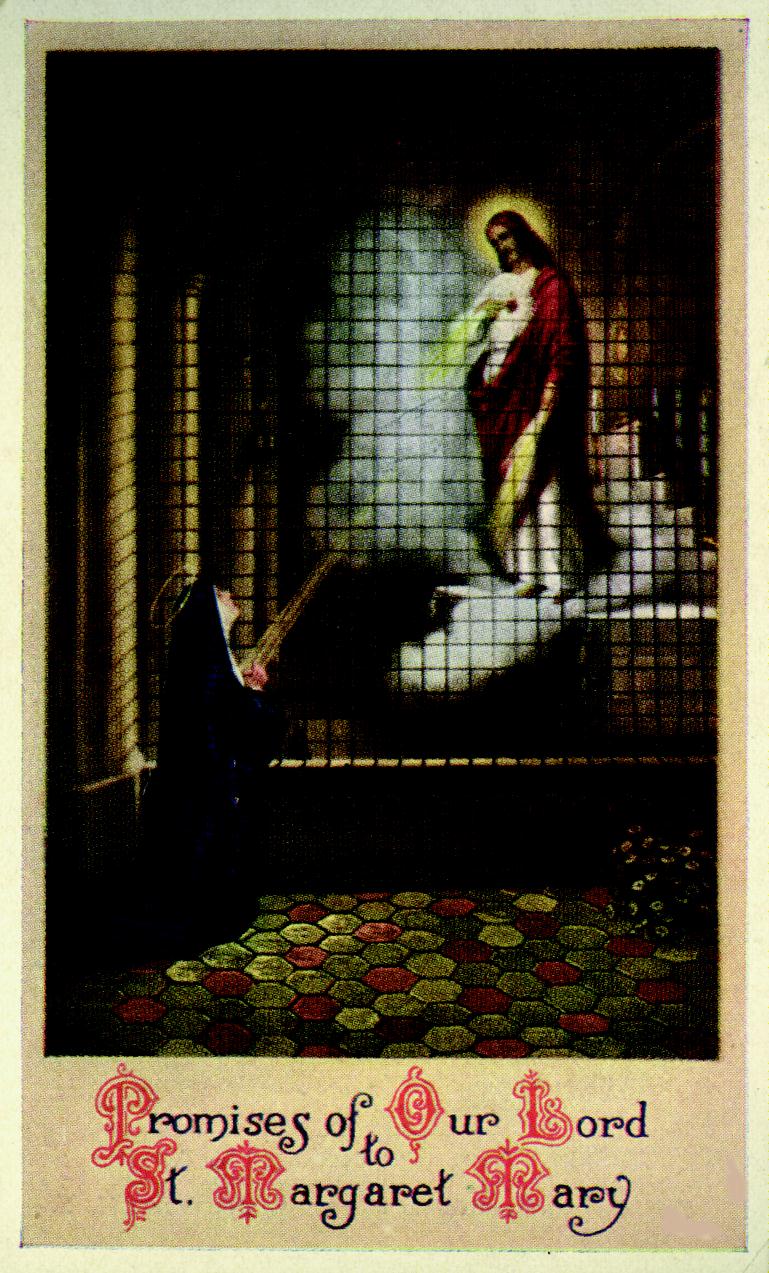 The Twelve Promises of the Sacred Heart
To St. Margaret Mary
I will give them all the graces necessary for their state of life.

I will give peace in their families.

I will console them in all their troubles.

They shall find in My Heart an assured refuge during life and especially at the hour of death.

I will pour abundant blessings on all their undertakings.

Sinners shall find in My Heart the source and infinite ocean of mercy.

Tepid souls shall become fervent.

Fervent souls shall speedily rise to great perfection.

I will bless the homes in which the image of My Sacred Heart shall be exposed and honored.

I will give to priests the power to touch the most hardened hearts.

Those who propagate this devotion shall have their name written in My Heart, and it shall never be effaced.

The all-powerful love of My Heart will grant to all those who shall receive communion on the First Friday of nine consecutive months the grace of final repentance; they shall not die under My displeasure, nor without receiving their Sacraments; My Heart shall be their assured refuge at that last hour.


<![if !supportLineBreakNewLine]>
<![endif]>
~~~
Latin Prayers
In Nomine Patris et Filii et Spiritus Sancti. Amen.
Credo in Deum, Patrem omnipotentem, Creatorem coeli et terrae. Et in Jesum Christum, Filium eius unicum, Dominum nostrum: qui conceptus est de Spiritu Sancto, natus ex Maria Virgine, passus sub Pontio Pilato, crucifixus, mortuus et sepultus: descendit ad inferos; tertia die resurrexit a mortuis; ascendit ad caelos; sedet ad dexteram Dei Partis omnipotentis: inde venturus est judicare vivos et mortuos. Credo in Spiritum Sanctum, sanctam Ecclesiam catholicam, Sanctorum communionem, remissionem peccatorum, carnis resurrectionem, vitam aeternam. Amen.
Pater noster, qui es in coelis: sactificetur Nomen Tuum; adveniat regnum tuum; fiat voluntas Tua sicut in coelo et in terra. Panem nostrum quotidianum da nobis hodie et dimitte nobis debita nostra sicut et nos dimittimus debitoribus nostris; et ne nos inducas in tentationem, sed libera nos a malo. Amen.
Ave Maria, gratia plena; Dominus tecum; benedicta tu in mulieribus, et benedictus fructus ventris tui, Jesus, Sancta Maria, Mater Dei, ora pro nobis peccatoribus, nunc et in hora mortis nostrae. Amen.
Deus meus, ex imo corde Te offendisse me paenitet. Omnia peccata mea detestor quia amissionem caeli et paenas inferi abhorror; sed maxime quia Te. Deum meum, offendunt, Qui omnis bonus et amore meo omni dignus es. Auxilio gratiae tuae ut peccata mea confitear, paenitentiam agam et vitam meam emendem firmiter statuo. Amen.
E-mail: hfamom@adelphia.net
<![if !vml]>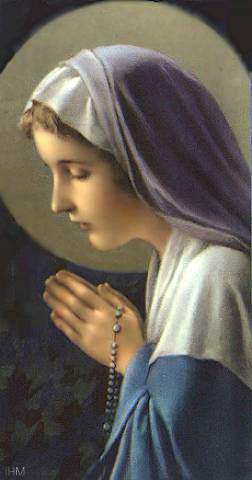 <![endif]>Lord Jesus Christ, being subject to Mary and Joseph, You sanctified family life by Your beautiful virtues. Grant that we, with the help of Mary and Joseph, may be taught by the example of Your holy Family, and may after death enjoy its everlasting companionship.
Lord Jesus, help us ever to follow the example of Your holy Family, that in the hour of our death Your glorious Virgin Mother together with Saint Joseph may come to meet us, and we may be worthy to be received by You into the everlasting joys of heaven. You live and reign forever. Amen.